Text: Yusuke Shono, Translation: Goh Hirose
The first ever of its kind, blinding six day exhibition for generative art and AI art in Tokyo has come to a close. This celebratory event was full of extraordinary experiences that are difficult to capture with mere words. Starting with the exhibition of NFT art with the dazzling Tokyo skyline as a backdrop, ranging to workshops with the artists themselves, to experiment the minting of NFTs. One and only tech-art experiences were paradoxically hosted in Japanese traditional architecture within the Japanese gardens from ages ago.
There were many engaging presentations and talk sessions that exposed the audience to the history, concepts, and ideas that gave birth to the artwork they were experiencing. It was indeed an embodiment of the strong ambition into the art experience, to go beyond what historically would have been planned for an art exhibition. Finally, we mustn't forget the wonderful dinners that were planned to deepen the cultural experience and help articulate the networking and engagement among the participants that transcended the generations and cultures.
Curator Kaloh compared the ever-growing influence of "BRIGHT MOMENTS" to the Cirque du Soleil, given the fact that it's travelling the world while engaging with the local art scenes and assimilating diverse inspirations1. I've spoken to Seth Goldstein, the founder of Bright Moments, to unpack a behind the scenes look at how they came to Tokyo with world class NFT art, and created this amazing platform for engagement via a space created in meticulous detail with the P.I.C.S. TECH team.
The city of Tokyo and "Bright Moments"
Let's travel back with Seth Goldstein to when he first visited Japan. He was going to talk at an event called "RIGHT CLICK LIVE" held in a department store PARCO building which also served as the exhibition venue.
It was here back in December 2022 that he announced "Bright Moments" would be held in Tokyo around May of the following year. It's interesting to note that "Bright Moments" is organized as a Decentralized Autonomous Organization (DAO) and makes decisions by voting among its members. After the show in Mexico City in October 2022, Tokyo was voted to be the seventh city hosting the show, gaining a whopping 80% of the votes2. We asked Seth "Why Tokyo?" and this is what he had to say.
Tokyo has always represented an important location for technology innovation, artistic experimentation and digital culture. So, we were not surprised by how popular it was among our community as the leading city candidate.
This exhibition was held during a new wave of global interest in AI. Furthermore, it's no coincidence that Japan, a country that has always been associated with robotics, AI, and Virtual Reality popularized by the manga, anime, and video games was chosen for such an event. The fact that AI was a key feature of this event reflected the times we live in.
From Venice Beach…
Bright Moments, with its unexpected announcement of the Tokyo event, caught the local Japanese NFT enthusiasts off-guard. What began as a modest organization has now grown into a vast, diverse team that brings together a diverse range of people from all corners of the globe, each operating within their own local sub-DAOs.
In January 2021, Seth decided to list his work based on a photo of Venice Beach on the Foundation marketplace, a platform built on the Ethereum blockchain that has NFT art listings. He used a GAN model (Generative Adversarial Network) to generate his video work and was pleasantly surprised that he was able to sell it for the price of 1 ETH (roughly 1377 USD at the time).
During this time people had finally been given access to go out of quarantine thanks to vaccinations, and this sale led to some new ideas. The though crossed his mind – "Why can't I create an art gallery that exhibits digital art using displays, instead of physical paintings?"
It all started in a small gallery facing Venice Beach in Los Angeles, California. "Bright Moments", named after an album by the late jazz musician Roland Kirk, was founded there in April of 2021. The minting method "IRL (In Real Life)" was also created here, to only allow people who visit the physical exhibition to be granted the right to purchase the artwork.
Shortly after we started Bright Moments in April 2021 in Venice California, we had the idea to give away NFTs to visitors who came to our gallery during the afternoon (which otherwise would have few visitors). This was the birth of our CryptoVenetians (and our broader CryptoCitizen collection) where collectors had to be there in person for the live generation of their art work. We continued to explore new ways of experiencing IRL minting with subsequent art exhibits including Aaron Penne / Boreta's Rituals in Venice (September 2021) and Tyler Hobbs Incomplete Control in New York (December 2021).
CryptoCitizen, now a signature aspect of Bright Moments, is unique in that it can only be purchased in-person at the venue. This 'IRL' approach may well have sparked a collector's fervor for acquisition. Despite incidents such as NFT theft, the demand for CryptoCitizen began to echo from international quarters as well. However, obtaining an NFT that can only be minted on-site presents a challenge for those living abroad… To address this, the concept was conceived to increase the number of CryptoCitizens by conducting IRL events while travelling around the world.
When we opened our first gallery on Windward Ave underneath the Venice sign, we had no idea that we were taking the first steps on a journey around the world. That summer is part of our DNA: the first shows in our sandy gallery, the daily ritual of CryptoVenetian minting, and The Heist that propelled us from our home in Venice Beach to New York City.
(Venice to Venice / April 21st, 2023)
Space Design by P.I.C.S
Bright Moments is often credited for having introduced the concept of IRL minting, which is also recognized as a very significant contribution to the NFT scene. At first glance, adding constraints on an online digital process that streamlines everything from discovery to purchasing may seem inconsistent.
However, the experience of minting in a memorable exhibition space creates an unforgettable moment etched in our memories where a piece of art is born through the live minting process. This experience is heightened by the very human experience of when, where, and with whom you were at that moment of its creation.
These memories add a new dimension to the artworks – almost a personal touch – to the permanent transactional records on the blockchain representing the art. In order to celebrate this memory-making experience, a space that can truly enhance the encounter between the audience and the artist's work becomes increasingly important.
P.I.C.S. TECH, a division of the video production company P.I.C.S., played a critical role in fulfilling this important need. Originally working with MTV JAPAN and having produced many music videos, the production company formed a group of experts who combined new technology and spatial design after their experience with large-scale projection mapping for Tokyo Station.
Their focus expanded from two-dimensional video into more spatially immersive experiences. This evolution was a conscious move to meet the ever-changing digital media landscape. As digital expressions continue to rise in popularity, there's an increasing demand for bridges to interface the gap between digital and physical worlds. It's important we are aware that this is not something that is passively done. It's not a matter of just choosing the right size and type of displays, but is actually about a deeper understanding of creative design work that involves the embedding of the art into the environment that supports it.
The story of how the P.I.C.S. team and Bright Moments crossed paths is intriguing. It all began during their global journey, specifically in London, UK, which was the fifth city they visited. P.I.C.S. was working on an installation by Sputniko!, one of the exhibition participants, which brought them into contact with Bright Moments. In Sputniko!'s exhibition, the team sought to immerse viewers in a unique experience, simulating the feeling of being inside a womb. To achieve this, they surrounded the entire exhibition space in a white membrane and projected images through this film. Navigating the constraints of the pandemic at the time (Japan was very strict throughout the pandemic regarding their quarantine rules), they ran countless simulations in Japan so they could ultimately face the London live event with a very limited team. This experience opened the door for them to take on the spatial design for the Tokyo exhibit, and it posed an intriguing artistic challenge: embodiment of the constantly evolving viewing experience of a digital art, NFT art.
The theme set for this exhibition was a Japanese dining concept of "OMAKASE", a Japanese term that implies trust in the masterful chef to serve the best meal tailored to the customer, the season, and occasion presented.
One could also see concept is akin to the act of collecting art. As a work of NFT art is minted, it's also forming a connection with the artists behind the NFT art. Each encounter with a piece of art is part of the Japanese concept of "Ichi-go ichi-e" that directly translates to "one time, one meeting" implying that we cherish each of these one-of-a-kind encounters.
It's about the relationship between the artwork and the viewer, and between people. What makes these relationships special is the presence of trust. Observing the people around Bright Moments, this realization becomes clear and tangible. Seth, had this to say about the Tokyo exhibition:
Bright Moments Tokyo was our greatest event so far. We were able to apply all the lessons from the prior cities to create a wonderful integration of art, education, food, and entertainment, which are the necessary ingredients for elevating a Web 3 community. We were blessed to be working with a truly world class design and production partner P.I.C.S., along with support from Digital Garage (Joi Ito), the Shibuya Mayors Office (iaccess to Asakura Residence) and our incredible consigliere James Higa. The attention to detail and level of craft in Tokyo really helped us elevate the experience into its own art form. And of course, introducing new works of on-chain art from more than 30 of the greatest Generative and AI artists played a big role in the historic significance of this event.
This exhibition was truly a grand event, featuring the works of over 30 artists. These included artists encountered by Bright Moments during their journey, local Japanese artists, and even AI artists. The exhibition spanned two venues, with the largest one, Digital Garage, divided into three unique spaces. Each space was meticulously designed according to its own concept. Compared to most art exhibitions of today, this was an attempt at a rich experience to display and communicate about art. Let's dive deeper into the concepts and detailed spatial designs of these venues.
The Light that Shines Upon the Space and Art
P.I.C.S. team's primary focus was on "Japanese Culture" expressed through the experience. Given that the event was held at night, they leveraged an innovative use of lighting. They created a space conscious of the light and shadows. The gradients of light that express Japanese aesthetic values that perceives light and shadows as blending elements rather than conflicting ones. In the first hallway, called the "passage" connected to the "foyer", a space for people to interact, devices were installed that changed the color of the shadows of the people who came through this space in real-time. These colors were all chosen from traditional Japanese colors representing spring, to help the visitors savor the distinctly Japanese palette and the mood of the season.
After passing in this decorative light, visitors pass the muse of this venue: an arcade game cabinet that appears to be floating in space – actually on a mirror reflecting the cabinet. This game cabinet is the device to mint the Tokyo edition of CryptoCitizen, the CryptoTokyoites. After a coin is inserted into the device by the visitors, an image is projected onto the screen, and everyone present can appreciate the pixel art generated by the minting live. At a bar across from this device, you can buy drinks with crypto, adding to the celebratory cyber vibe of the venue. Every time a CryptoCitizen was revealed cheers arose, and the captivated audience reacted in various ways to the generative emerging artworks of the night.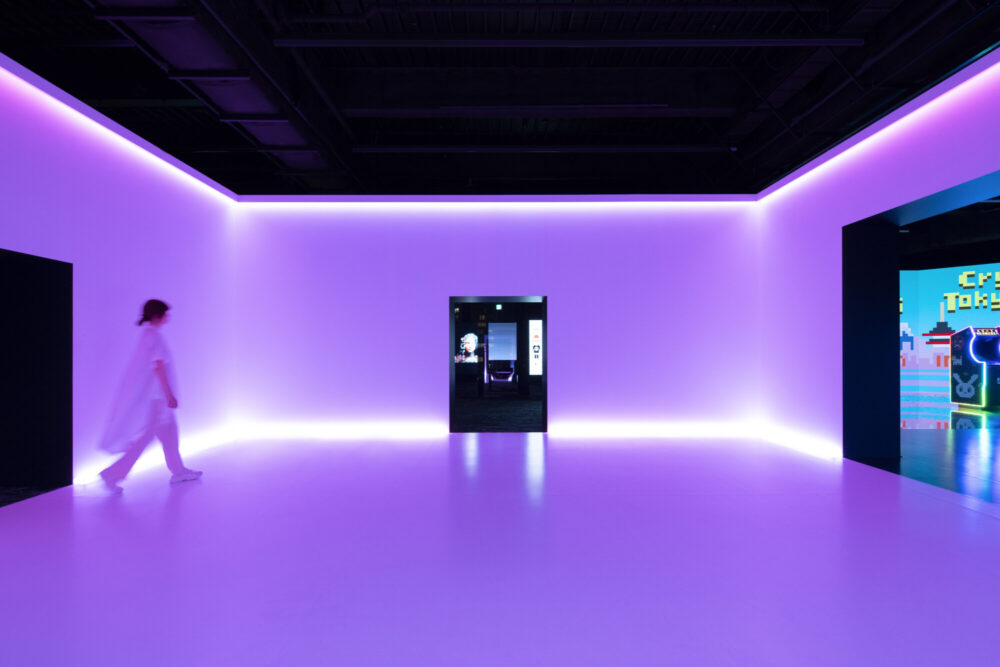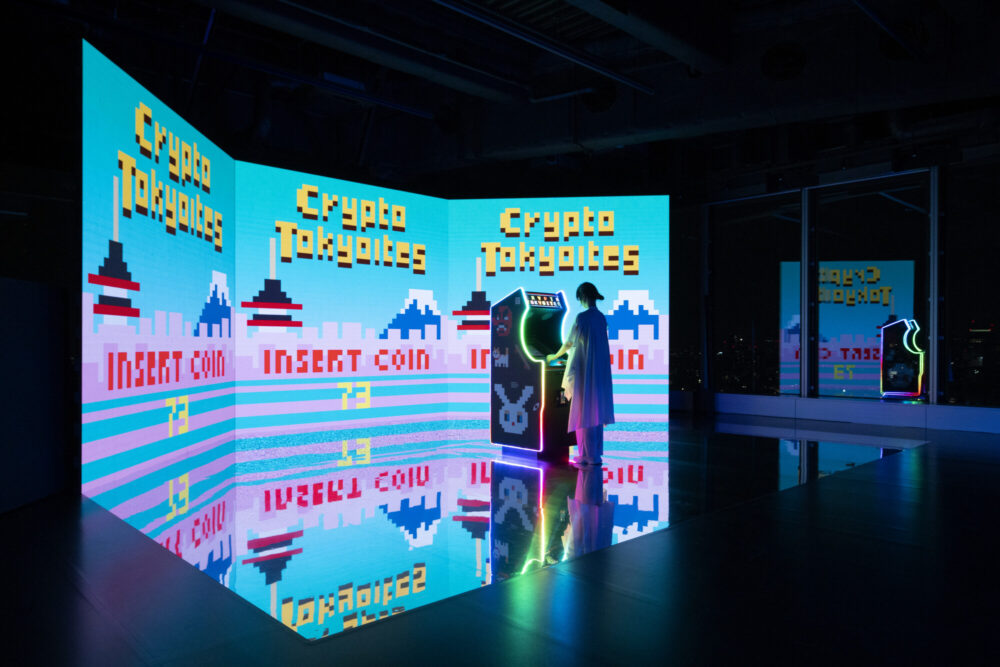 JAPANESE CONTEMPORARY Collection
Now as you proceed deeper into the exhibition space, the air of the space around you shifts dramatically, as one would find themselves surrounded in tranquility. The "JAPANESE CONTEMPORARY Collection," where you can appreciate this exquisite artwork against the backdrop of the hyper-urbanized Tokyo's skyline, features a selection of works from carefully curated Japanese artists. What left a lingering impression was the careful selection of top artists, those who also from a local Japanese perspective are well known in Japan.
For this event the curation wasn't limited to generative art pieces, which Bright Moments are renown for curating. There were also post-photography works, 1/1 pieces, and conceptual on-chain art works exhibited. The organizers mentioned how these artists were sourced from introductions from their network, some who they've met during their travels, and some artists who they've met at meetups. One could say that the breadth of this selection seemed to reflect their philosophy in a truly decentralized curation process.
In terms of spatial design, the exhibition embodies a glamorous aesthetic, characteristic of modern Tokyo. The lighting consists of suspended panels, layered upon one another to create the illusion of floating sheets of light.
Each piece of artwork is displayed on a mirror-finished base, enhancing the illusion of them floating above the city at night. The distinctive lighting was achieved by applying a film, called RAYCREA, onto acrylic panels. The color scheme was inspired by traditional Japanese spring colors, aiming to evoke the sensation of a spring-laden Tokyo nightscape.
The event's opening at 5 p.m. made perfect sense, as it fully leveraged the breathtaking view of Tokyo's skyline from the higher floors of the building. Innovative technology was incorporated, capturing real-time changes in the brightness of the night sky, and adjusting the space's lighting accordingly. Rather than merely serving as a backdrop, the strategic lighting was an essential component of the exhibition, blending the artwork seamlessly with the environment. This fusion was a striking and memorable feature of the show.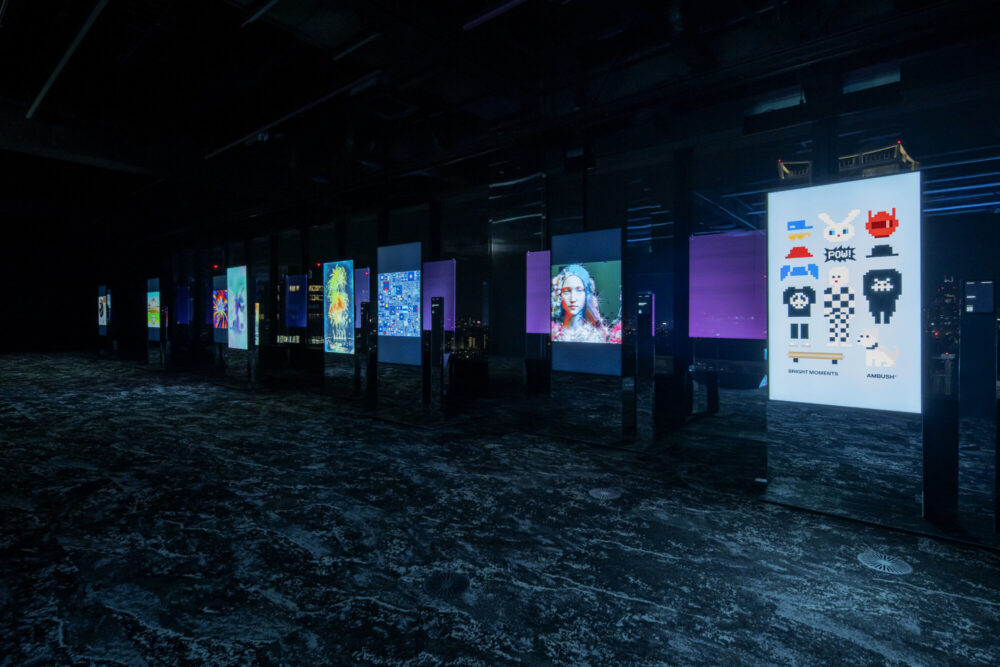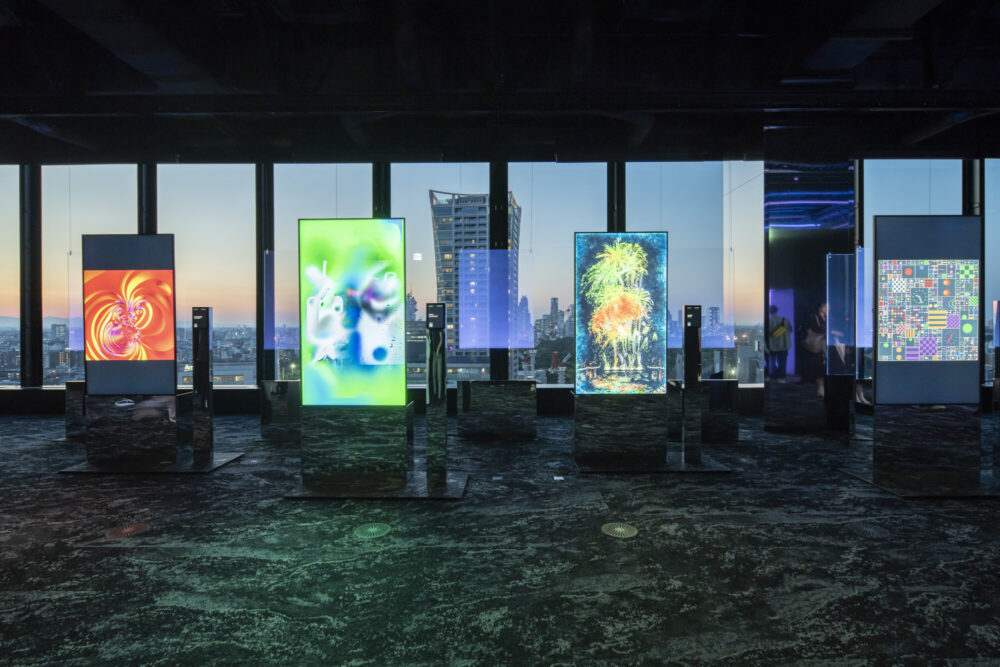 AI ART Collection
Next, we transition to the adjacent area, a chic space dominated by black, aptly named the "AI ART Collection". A cleverly placed lighting system at the base of the walls creates an illusion of the floor surface floating in mid-air. The spatial design theme for this section is "ZEN". The AI artists selected for this part of the exhibition were meticulously curated specifically for this event.
While AI art is currently drawing substantial global attention, it is likely the first time such a concentration of AI artists are featured in the same exhibition. It is intriguing to observe young artists who emerged post-generative-AI, their fresh perspectives juxtaposed with the work of established pioneers in the field. This section of the exhibition alone undeniably represents a historic moment in the evolution of AI art.
Situated at the very rear of the space is the "AI Imagined Face," a piece by Pindar Van Arman, who is both an AI artist and a robotics engineer. Videos of the robot using a brush and painting a physical work are displayed alongside the actual canvas pieces. The collector could buy and acquire the physical paintings drawn by the robot and acquire the full on-chain NFT that places all data on the blockchain. Often, digital art that requires large data storage capacity, is considered unsuitable for on-chain storage. This work however, was on-chain AI art and can be said to be a rare piece in that respect.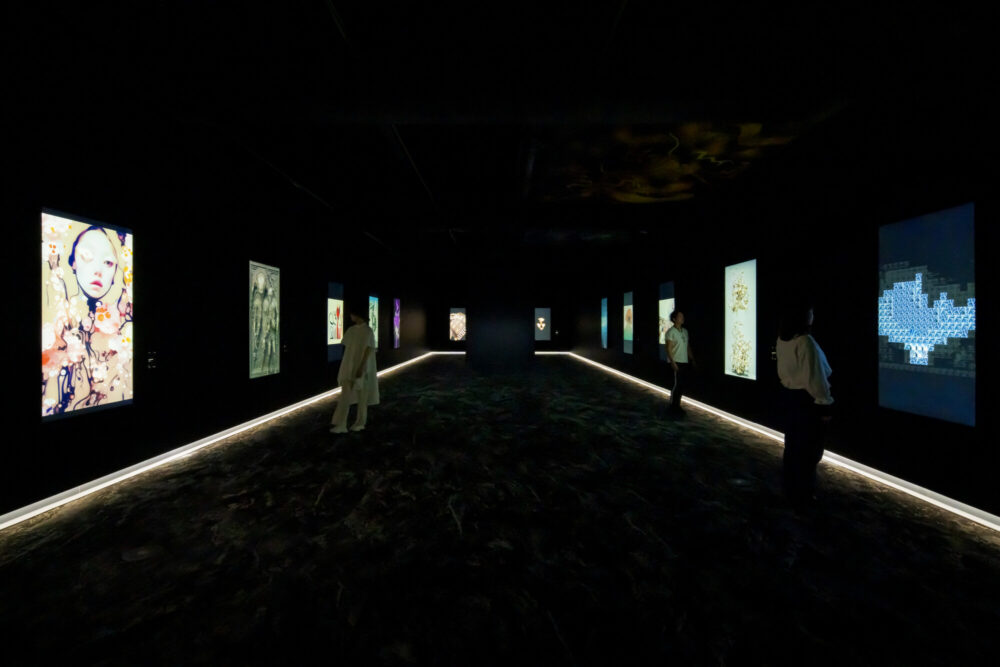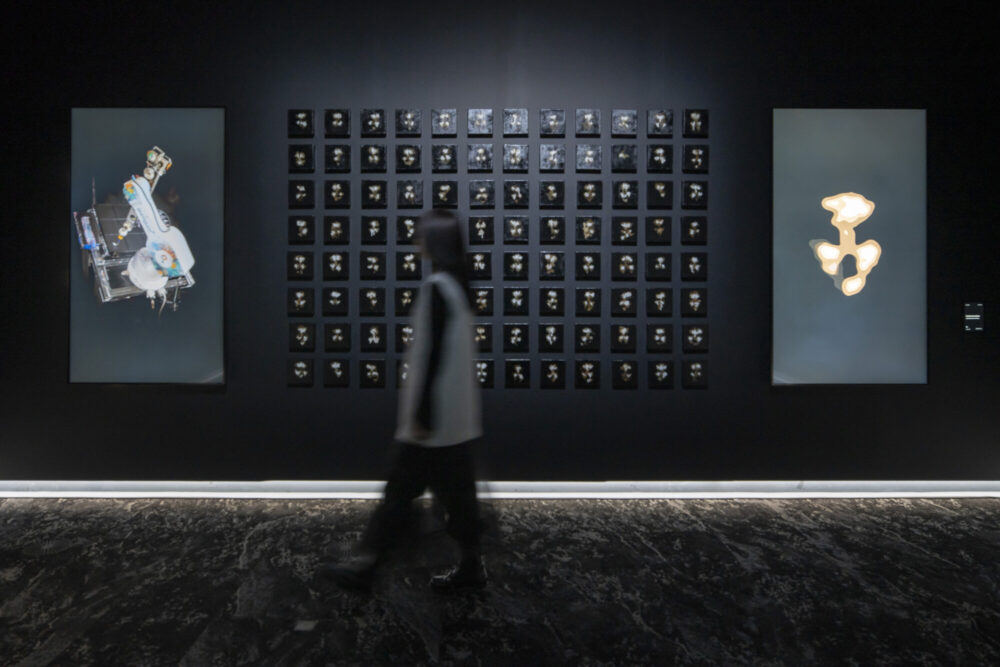 The Old Asakura House
The second venue was a shift in location and feel, situated inside a residence built during the Taisho era near Daikanyama station, designated as an Important Cultural Property. For those not familiar with Tokyo, this is a district in central Tokyo that is a stylish but quiet neighborhood of Tokyo.
Walking through the tatami-matted rooms preserved from that time, we arrive at the exhibition of acclaimed generative artists presented by Bright Moments Tokyo. Selected from Japan were Shunsuke Takawo, Qubibi, and Alexis Andre.
Participating artists also included regulars of Bright Moments such as Jeff Davis, the environmental-themed artist Zancan who enjoys unwavering popularity on Tezos, and Kim Asendorf, who creates unpredictable and dynamic visuals through pixel manipulation. This all-star lineup was truly a testament to the most cutting-edge evolution this contemporary art form of generative art has reached through its history.
The juxtaposition of digital art and traditional architecture might seem contradictory at first. However, in practice, the displays housed in wooden boxes harmonized with the serene ambiance of the space seamlessly and naturally. The clean, simple setup was free of power cables, made possible by installing batteries within the display boxes. In a traditional space seemingly forgotten by time, you find yourself minting the most avant-garde art – generative art – and realize that this is what making history feels like. This stark contrast was undoubtedly an experience unique to a city like Tokyo, Japan.
In Conclusion
As the last of the collectors exit and the event spaces now quiet, stand void of their once bustling activity, a profound sense of achievement lingers. This silence, underscored by a melancholic longing for the phenomenal moments that once filled these spaces, amplifies the unforgettable memories now etched into our minds.
The recollections are vivid – encounters with legendary creators I had only dreamed of meeting, the tangible evolution of local Japanese artists, and the unexpected influx of NFT artists who, although not part of the exhibitors, had journeyed to Japan in droves. The exhilaration of acquiring artwork, the nightly gatherings over OMAKASE dishes, the collectors' fervor in seizing this rare opportunity to interact with their favorite artists… these special moments helped paint the vibrant canvas of the Bright Moments' unique presence among all other exhibitions.
Extremely eager to know where Bright Moments will venture to next, I had to ask Seth what city their next venue will be visiting:
Our next city activation will be Buenos Aires in November. A group of us are heading there this week to begin scouting locations and meeting with local artists. We are also planning our next ArtBlocks x Bright Moments collaboration for August with one of the most influential generative artists and educators working today. We will continue to experiment with new ways of introducing AI to collectors in terms of more immersive experiences. Next year, we will complete our CryptoCitizen roadmap with the 9th city in February (which we have not yet voted on; perhaps Paris?) as well as our 10th and final city on the roadmap, which will be Venice, Italy, in April. For our Tokyo community, we plan on staging our first show later this summer as well.
The transcontinental journey of Bright Moments is well underway. Having embarked from its starting point in Venice, California, this journey is now setting its course toward its namesake city in Italy. As they traverse the globe, visiting new cities, they're unearthing the unique digital art of each locale. To accompany Bright Moments on this exploration promises an experience of a lifetime. Despite the distances, there is so much to be discovered. Discoveries and experiences unique to each locale. Why not stretch your horizons and join me on this journey to these extraordinary Bright Moments exhibitions?
Bright Moments Tokyo Artists
Tokyo Collection: Zancan / Shunsuke Takawo / Spongenuity / Qubibi / Melissa Wiederrecht / Licia He / Lars Wander / Kjetil Golid / Kim Asendorf / Jeff Davis / Alexis André
AI ART Collection: Sofia Crespo / Pindar Van Arman / Mario Klingemann / Kevin Abosch / Jenni Pasanen / Ivona Tau / Huemin / Holly Herndon & Mat Dryhurst / Helena Sarin / Ganbrood / Claire Silver
Japanese Contemporary Collection: A-Mashiro / Ambush / A.A.Murakami / 0xhaiku / Emi Kusano / Joi Ito x Kawaii Skull / Kaoru Tanaka / Kazuhiro Aihara / ykxotkx / Okazz / Saeko Ehara
Bright Moments https://www.brightmoments.io/
P.I.C.S. TECH https://www.pics.tokyo/tech/