Text: Yusuke Shono, Translation: chocolat, Goh Hirose
"Hausu mountain" is a music label founded by Doug Kaplan and Max Allison in 2012.  They have released experimental electronic music as if pioneering the rich unknown depths of the deep ocean.  From the use of a Japanese movie name in his label name, to Max Allison's album cover art design, at the bottom of his creations lies a love for a wide range of things such as manga, retro games, sci-fi culture, and sub-culture.  Doug and Max are also known for being a member of the Good Willsmith trio.   Memories of their highly acclaimed new album released from "Umor Rex" are still fresh in my mind.  The music is harmonious with their label sound, with a lo-fi experimental feel.  It has the atmosphere and emotions as if traveling through time and space.  The rich sound spectrum including both electronic and organic sounds, is also a significant quality of their music.  The taste of their label is that of relentless exploration and experimentation, while having a fundamental quality of human warmth. Each of the members of the Good Willsmith group have just released independent solo albums (3 in total). To investigate the secret of their uniqueness, I have asked about the origins of their concept, their founding, about their band project Good Willsmith.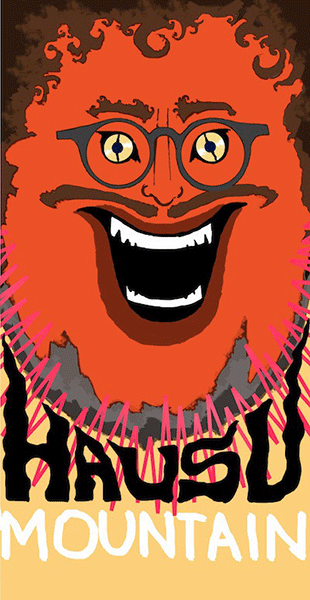 Could you tell us the label history? How did you two get to know each other, also how did you establish your label?
We (Doug and Max) met each other in college at Northwestern University in Evanston, and we became best friends very fast! We started a rock band together called The Earth is a Man. After graduating in 2011, we moved in together in Chicago and continued to make more music. The label Hausu Mountain started in 2012 basically as a way for us to release our own music, like the bands Good Willsmith, and The Big Ship. We knew it would be hard to get these releases out with other labels, so we decided to do it all ourselves. Shortly after that we began to focus on releasing the music of other friends and projects. Doug and I are still best friends and we love working hard together on keeping the label running great.
I heard your label name was named after the title of the movie directed by Nobuhiko Obayashi. Is it true?
Yes, the label is named after Nobuhiko Obayashi's movie Hausu/"House" – in combination with the name of Jodorowsky's Holy Mountain. We love both of these movies. They are classics of psychedelic art, and contain so much wonder, humor, fright, surprise. We love these movies because they seem to represent entire worlds or universes of their own, with their own rules and their own unique atmospheres. We try to do the same thing with our record label – to build whole new psychedelic worlds, and to never take ourselves too seriously. Part of what makes these movies so classic is that they are always so fun and surprising to spend time with.