Pryp'Yat' is a city that has become an empty town because of the incident at 
  Chernobyl. Could you tell us what you think of Ukraine?
Antifur, the original Hardvapour label, started off based in Mykolaiv, Ukraine. So we decided to be based in Ukraine as well. The intent for having Eastern European origin stories was to present a much "harder" narrative than was previously being explored by Vaporwave. That being said there are a number of Hardvapour artists who are actually from Ukraine and they are helping to widen our popularity in Ukraine and Russia. There have been many excellent interactions with our Russian and Ukrainian friends.
Your label name has a word "resistance" in it.  What kind of existence do you resist?
It is a resistance to the escapist and nostalgic mindset perpetuated by Vaporwave music. Many Vaporwave producers declared war on Hardvapour and banned any mentions of Hardvapour from their Reddit and Facebook groups but they chose a battle that they would be certain to lose because most of them completely lack creativity. Now Hardvapour is taking over and many of these same Vaporwave producers are beginning to embrace the genre. To quote the Kroko_Borg they have been "assimilated".
I am interested in some compilation albums related to actual events.  For example, "THIS IS THE ZODIAC SPEAKING… "I AM NOT TED CRUZ"", "WORLD WAR 2020 – EPISODE FOUR (2016 VERSION): WIKILEAKS VS. DNC", and so on. Why do you connect actual events to compilations on your label?
It is for the same reasons as in the question before — where Vaporwave was an escape into the past we make the effort for Hardvapour to be about what is happening in the world right now. Not for every single Hardvapour release. Many of them are also quite futuristic in nature. But for example WIKILEAKS is a contemporary phenomenon that has done a lot to shape how people are trusting (or distrusting) their own leaders and governments. So this was a subject that many artists were excited to make sonic interpretations for. There are so many revelations in the Wikileaks that nearly everyone has some level of interest.
"PZA FILES: THE FIRST SLICE", which deals with a trouble of PZA, is brilliant. 
  How was this work created and released?
Thank you!! There was a scandal where PZA was caught stealing tracks from other underground artists and releasing them as his own. Sometimes with no changes even — only the song title would be changed. So the creator of PZA FILES found this radio interview with PZA which he took parts from, also HVRF submitted additional parts to be added to the collage. It was all made very quickly and was a very popular release for us because the scandal was happening at the very same time. You may be surprised that after this we still choose to work with PZA but he has apologized and has promised to only make original music ever since the problems. We love the new music he has been making and we believe he deserves the second chance — also it is funny in many ways because PZA was made a villain for stealing music in a genre that is basically nearly all made of stolen music. The ironies are too rich in this.
A wide range of artist take part in your label.   How do you select artists?  Do you have something like criterions?
It is all quite random. Many artists we have asked before even knowing what their music sounded like. We just assumed by their personality that they would make something suitable. So it is the opposite of having criterions in a manner. Some artists come to us over email. Many we have met first on Twitter. We listen to everyone because there is potential in everything.
Could you tell us things that give an influence on your label?  It is not necessary to be about music. Anything is fine.
Yes. There is a Youtube channel by STYXHEXENHAMMER666 that we follow closely. Also ALEX JONES & INFOWARS of course. Another Youtube channel is LIONEL NATION. We are massive fans of the game of chess and our favorite player is HIKARU NAKAMURA, while HVRF artist DJ Raj Kapoor is one of VISHY ANAND's most feverish supporters and was responsible for the infamous "airhorn incident" that startled Vishy into making one of the biggest blunders in world chess championship history. Also many of our artists play FIFA on PS4 every weekend in a marathon format. The game FALLOUT 4 also informs our aesthetic. Other things include ADIDAS, the rock band PUDDLE OF MUDD, and the film HARDWARE. NJPW is also a huge influence to us. The excellence displayed in Okada's matches with Shibata and Kenny Omega at the Sakura Genesis and Wrestle Kingdom 10 respectively have proven to be a huge inspiration for our roster.
Some years have passed since Vaporwave was generated.  What do you think of its current scene?
Our friend Vapor Sleuth said this recently:
"I've been in this town a long time. Feels like a ghost town around here now, but the liquor's still hard if you look for it in the right places. I remember it like it was yesterday – couldn't turn a corner without seeing a pack of wolves back then. Now it looks like the wolves have ate all the meat they could find and left town. Nothing but derelict megatowers beaming soulless company logos out into the night sky. Those cats still trying to post the latest fix on the few that remain here. But still the rain is always falling. It always rains in this dead-end city."
What is your definition of Hardvapour?
There are no rules for this. It is freedom. We feel that HKE of Dream Catalogue really described Hardvapour quite perfectly in an interview with Neon Dystopia last year when he said this:
"The picture you painted of hardvapour is pretty apt though and a great interpretation of it, but I think it's actually becoming even more than just that now. Nobody can deny that the entire world is just heading down a path of utter insanity and chaos, socially and politically, and it feels to me that hardvapour is the new global music that represents this rapid change in things. It's the sound of the World War 3 pre-game show, which I think we're currently in now unfortunately the way things are looking. If vaporwave was the sound of the American dream of the 80's and 90's entering a strange state of sleep paralysis, then hardvapour is the sound of being fully awake from the blissful ignorance and looking at the world for its cold, harsh reality, but also trying to find solace in that fact and realise that we're all on this earth together. Maybe it can save the world. A new form of global music, for the entire world."
Please tell us next releases on your label.  Also, do you have any plans to do something outside of the label? 
Our next release is #100. We did 100 releases in less than a year. After #100 we will be on a schedule of 3 releases per week because we have so many albums ready. Maybe it will slow down eventually. This is hard to predict. We are scared that war might start before 2020 and get in the way of our planned releases. Humans still have so much to express before our extinction.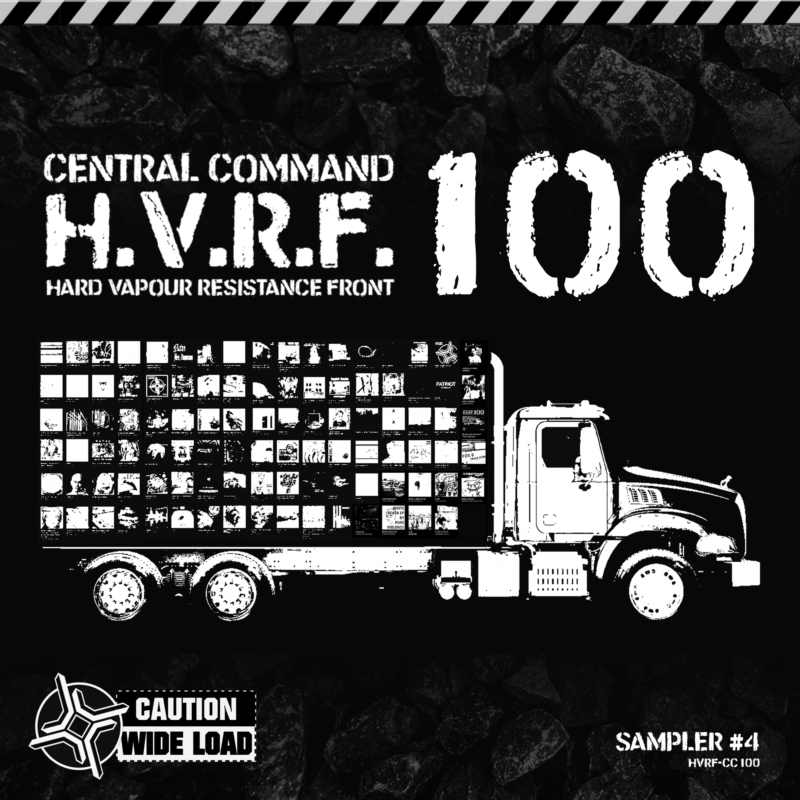 HVRF-CC 100: VARIOUS ARTISTS – SAMPLER #4
H.V.R.F. CENTRAL COMMAND
https://hvrfcentralcommand.bandcamp.com