Interview & Text: nukeme, Translation: Kato Mina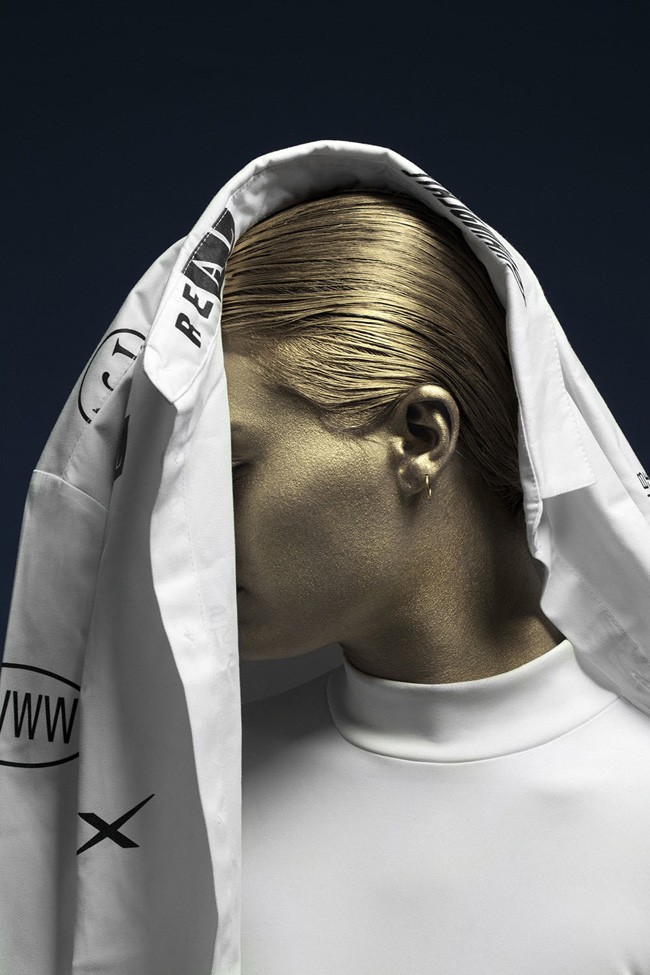 Firstly, can you tell us a little about your background? Have you two ever studied fashion?
Silvia Bianchi Shallowww is a project by Berta Muñoz, Ricardo Juárez & I, we are three friends with different profiles and background but with the same ironic point of view in fashion. Berta [Muñoz] and I used to work as stylists and trend watchers, and we often felt like we couldn't really find what we were looking for visually in our shots. Berta studied psychology, Ricardo graphic design and I studied semiotics, we are completely self taught in fashion. Ricardo [Juárez] and I also worked together as experimental creative consultants for the project Barriobajero since 2010 and – as with many graphic designers – we dreamt about seeing our stuff in print, being worn by other people. It seemed natural to join forces.
Originally, you were practicing as a creative unit, Barriobajero, in Stockholm, what was the process you undertook to start up this fashion brand?
Silvia As I said Barriobajero is just a branch of Shallowww. Ricardo and I lived in Stockholm for a while and we had a studio in an amazing office space there and shared it with great fashion designers. Living there was really inspiring and seeing how young people could start their own business and work on their own project to make a living.
What is the brand concept of Shallowww?
Silvia As its name recalls, Shallowww takes inspiration from internet shallow iconography and its semiology, symbols, textures and patterns. Our aim is to translate the 2.0 aesthetic and the digital imagery that surrounds us to textile production through embroidery, silkscreen and digital printing. Repetitions and glitches generate an atmosphere of discordance, and the result is a dystopian environment where the images have lost their original meaning and, drifting in the digital limbo, they remain merely visual and ornamental.
The brand name also refers to the most superficial layer of our body, the one we create covering ourselves with clothes. Also Shallowww team is made of three people, as the three W of the name, and that's change a lot. Berta contribution is fundamental and totally change the team dynamic.
As Barriobajero, not only do you create fashion pieces, you also participate in various fields, including curating, publishing and art direction. Is Shallowww a part of the big project as Barriobajero? Would you mind telling us about the whole picture?
Silvia Barriobajero share some values and a similar aesthetic with Shallowww but Shallowww it's a brand and it's nature is obviously more commercial. Shallowww garments are the result of a trend research and we always try to find a balance between innovation, trends and irony. Barriobajero is an experimental creative consultant dedicated to research, subcultural practices and culture promotion, and it's more art oriented and less commercial.
Do you feel there are any differences between when producing flat designs (e.g. web design, graphics, photography), and creating fashion pieces?
Silvia Yes I think fashion pieces are super complex and you need to keep in mind a lot of technical and practical issues. I love to deal with this kind of stuff by the way and to leave the studio and the laptop to go buy buttons and to search for new fabrics and then the handle something really physical when the process is finished.
In the collection, INTERNET SOUVENIRS, marble and ripple motifs have been used, which also influenced Tumblr users to become a trend online. How do you develop and come up with these characteristic textures? Also, what is the meaning behind the title of the collection INTERNET SOUVENIR?
Silvia Internet Souvenirs starts from patterns that have become popular online for their merely visual value and reflect on their gradual lose of substance and relation with Real Life. Making fabrics out of them is a way to give them back their physical substance and transform them again in what they were, marble stone to carve statues, water to resfresh your body…
The first image we chose to talk about how internet and visual feeds changed the working of memory mechanism was marble. We thought was interesting to observe and focus on how marble, generally used for sculpture and as building material, turned in a pattern, loosing all his physical qualities such as heaviness and coldness, to become just a meme. We chose to use the marble pattern to cover all the human body and transform the models into sculptures, to make warm clothes to play with marble lost features.
Internet Souvenirs is actually quite similar to Meme Index, our prior collection, patterns work like symbols nowadays and young generations feel represented by a visual universal language. Both collections reflect on how the image feeds networks such as Tumblr or Instagram influence the construction of our aestethic sense, through repetition and small variations.
We have heard you had been studying semiology in college, which we can see has become an influence in some of your products. What was your train of thought to place internet symbols and signs on clothing pieces?
I am interested in the loss of significance that symbols and sign suffer online, in the loss of relation between signified and signifier and in the construction of new sense and new layers of signify through visual dissemination and repetitions.
About the pieces using Arabic language as a motif, and also those other pieces which can be seen on Tumblr, that use the Japanese and Korean language; we see this as a metaphor of the mystical infinite space on the Internet, which cannot be reached when limited to search using only the Roman alphabet, or again your political views of this space. Is this correct?
Silvia Yes exactly. We think there are no borders and countries anymore and closed alphabets won't last for long, everything is turning in a global scale new language of signs and images and the roman can't be an universal language.
It was widely talked about when fashion brand, ZARA mimicked your designs. What were your thoughts at the time?
Silvia Of course we were pissed off when it happened, we tried to go on legally but then we realised that was just loosing our time and money. We decided to use it to promote ourselves and to spam it online. The interesting part is that the t-shirt they ripped off was part of the Meme Index collection and the concept behind the collection was how images and logos easily turn into meme on the web, and if Zara copy you is because your stuff turned into a Meme. Then we began to tag the pics of the rip off with the tag #meme #copy #shallowww and after a month they just stopped selling it and we realised that we made it!
One characteristic of Shallowww is that your items, for example the sweaters, are very simple. Do you have a purpose for keeping your lineup so simple?
Silvia We have no education in fashion so we started from basics. The next collection is going to be way more complex but we like easy-to-wear lines up when graphics and patterns are baroque :)
Also we see you have added sleepwear to your collection. At first, we felt it was breaking the rules for this brand, what was the meaning behind this?
Silvia Yes instead of closed collections, we work on open textile projects. We release new items during the year and fashion becomes a free combinatory game where categories such as homewear, outerwear, underwear, nightwear or eveningwear become liquid and relative, we like to play with boundaries and categories to create a new concept of open source fashion.
Yung Lean was wearing Shallowww in his music video. How do you know him? Also, his music videos can be categorized as sea punk, which is also a trend in fashion, what are your thoughts on this category?
Silvia We didn't know him. He just bought our tshirt from our best stockholm stockist and wore it for its first video. Then we discovered him and invited him to play at our Internet Souvenirs collection release party. Now we are making the outfits for its White Marble Tour. We hate sea punk but I won't categorise Yung Lean and Sad Boys as sea punk, they are doing really well and they totally deserve it.
Is it okay to believe that your newest collection, 2k15, is an ironic message towards the consumerist society? What is the concept behind the collection?
Silvia The idea of using 2k15 as the main theme of this collection is a way of talking about fashion obsolescence. We decided to print big logos saying 2k15, because big brands are releasing now winter 2014 collections and everybody is hustling to make the newest thing and feels like its stuff is getting old in two days. Then we thought was more interesting and provocative to set 2015 as an expiring date. Two years, no collections, no seasons.
Yes exactly. That's our main theme and "feature". Our brand works like a brain storming of internet trends and news related tags, and every garment correspond to one of them. #www #http #w3g #prism #jpeg2000
Shallowww is a self parody of fashion consumerism and ironically plays with the use of the body as a medium for empty and sponsored messages.
You have a book release coming up. What is this book about?
Silvia It's a zine we made in collaboration withe the italian photographer Bea De Giacomo and the stylist Anna Carraro. We asked them to reinterpretate our collection and the we buy gold aesthetic . The result is a 32 pages half gold half color self-published zine, we hope that will be the first publication of a long series. We love to explore different fields, for the publication launch during the Milan Fashion Week we made a huge scale version of the We Buy Gold logos we printed on clothing and turned the clothing shop which hosted the party in a We Buy Gold shop. Was pretty cool.
Shallowww originated in Madrid, although the collection is not being distributed in Spain. Is it true that Spain is not very open to new culture?
Silvia When we began Ricardo and I used to live in Stockholm and Berta in Madrid, then we moved back and Berta left and I travel to Italy quite often. Shallowww originated online and distribute worldwide, actually the fact that we are currently in Madrid is a merely casualty. and then meet to make the new collections. We actually make everything through Facebook secret groups, Skype chat and calls and what's app I won't say the Spain is not open, it's just that Madrid it's in the center of a desert and things take a while to get here.
Do you have any recommendations for places, culture, notable people, or movements happening right now in Madrid?
Silvia We work a lot with La Casa Encendida, an amazing art institution for example, and Matadero which is also pretty cool. There are a lot of amazing artist based in Madrid, we just moved to a new studio space that we share with Elena Gallén for example. Then I could mention Manuel Fernandez, Emilio Gomariz, Claudia Mate, and when it comes to fashion brand such as Moupia and SHOOP.
Which country are you most influenced by?
Silvia I am Italian and of course my taste and style it's really influenced by my country of origin, but I really learned a lot about style and aesthetic in Sweden and Scandinavia represent a big reference.
What are your favorite websites? Do you mind suggesting a few?
https://soundcloud.com
http://dismagazine.com/
http://novembremagazine.com/
Finally, do you have any announcements or ideas for the near future? If so, can you tell us a little about them?
Silvia We just released a new mix by Slugabed today and got more collaborations with music artists going on.
http://soundcloud.com/shallowww 
http://
facebook.com/shallowww

http://instagram.com/shallowww 
http://
vimeo.com/shallowww
Photo: Bea De Giacomo, Stylist: Anna Carraro, Model: Sidney Geubelle