"Teknivals", free-all-for rave, are under the slogan "No organize, No money system and No commercialism". destr∞y was searching for the possibility of non-commercial culture, and eventually he found himself moving to Berlin. We wrote about him in MASSAGE 9. It was already several years ago. After 311 (the Great East Japan Earthquake on March 11th in 2011), Japan has changed a lot. We don't feel like doing something extreme only for the reasons of personal pleasure any more. Gradually our culture started to be covered with commercialism and it has become rather flat.

While we as a nation are stagnant, the places outside of Japan keep developing something new and evolve everyday as usual. If you find yourself sympathizing with such new things, you could join the scene that creates something new and be a member of it. If you live with a lot of things to keep and protect, it is not such an easy way. However, only a sort of adventure could open the door to the next new world. destr∞y has gone to the new world for him. I got interested in how and what kind of people he spends his daily life with.

I have already written about his daily life in MASSAGE 9. So, this time, I am going to focus on the people he has met. We asked him to choose one person. He chose YAYA23, an organizer for "CYBERRISE", which is the biggest sound system / collective around Berlin. This is an interview destr∞y talked with YAYA23. YAYA23 has been traveling all around western Europe and organizing teknivals. What is a point in common between traveling and music for him? What did his lifestyle of traveling open as a door of the new world?
Please tell me how you start playing music and how you started a sound system?
Well, in the 90s, the first half of the 90s, I was involved in different musical subcultures: from skatepunk to jungle and trip hop to big beats. Already DJing in clubs in western Germany back then. hosting as resident DJ an indy rock and punk night. Crossing over to early trip hip hop, early jungle and drum'n bass. Blending electronic dance beats into the dj sets at these residency called "refoundation night". The beginning of my connection with electronic music as a performer. At that time, I still played with CDs, minidiscs and so on. Then, around 1995, I started buying vinyls. There were big beats, trip hop, drum'n bass, jungle and more. That stuff wasn't straight. Broken beats and fast steps on the dancefloors… not the approach over early acid house as for many others… broken beats upto 170 bpm !
I already had a small van at that time and I also liked the idea about moving with a van. Parking it somewhere, sleeping in there. When I park it in front of clubs, I come out from there and home was also there, or parking in the forest and listening to music there. I was already going into that. In the second half of the 90s, I got a scholarship as a student of the exchange program to study subtropical agriculture in Bologna, Italy. I put the turntables and records in my van and headed for Italy, where I ended up arriving to a massive warehouse party where I found myself suddenly with other people that also liked 160, 170, 180 bpm rhythmics and were traveling with vans and massive sound systems. Speakers in the truck, movement through and with sound, interesting dynamic!
I mixed drum'n bass and jungle while playing, when playing at freeparties back then but I also liked 4/4 drop in bass under broken beats. The combination of drum'n bass with its fast stepping and riding elements and 4/4 straight meditative and repetitive monotone bass… that gave an excellent result to my ears. So I started playing a mix of jungle and tekno leading to fast stepping freetekno. Tekno with 4/4 bass lines, and with a very energetic and riding groove on top. I really like that. This is how, in the mid 90s, I started to dj with vinyls at warehouse parties in Italy. This was a new form of tekno, bringing together movement, motion and music onto the roads and into freedom.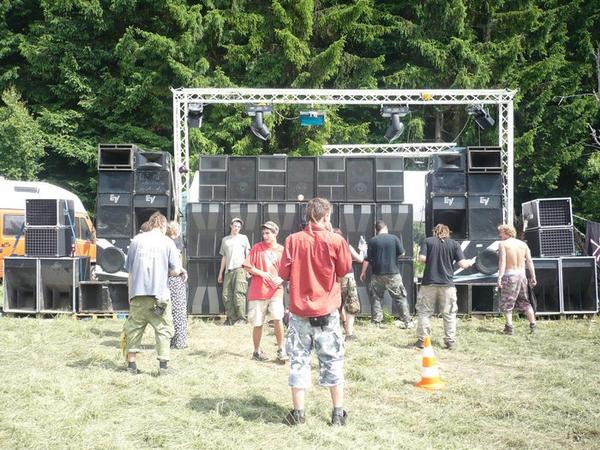 Please tell me about when you start mixing sound system with travelling.
I consider it to be a human urge to play music, at least in my case, it was an urge. Deeply I wanted to play music as an urge for freedom and started experiencing a very strong form of freedom, mental freedom through music. It lets me drive or imagine something beyond the boundaries that I am confronted with in my everyday life, this everyday life I was born into, this society I was born into. So music was always a form of psychic travelling and a very strong expression of freedom. A mental vessel. The same urge for freedom can be found in the expression by physical movement. Not only moving from a point A to a point B every day, but moving constantly. It means not living in pre-given patterns such as houses with a fence, and not running from A to B. To jump over this barrier and keep the motion moving constant: freedom starts to manifest.
Always keep on moving to where your heart takes you, so, with these urges for freedom, you can win mental freedom through music, rhythmic self-expression through music. It's freedom through physical movement every day, for example, being in different places, sleeping in different places and staying only as long as you want. If you feel it doesn't suit you, at the moment, you can move on anywhere you like. The Combination of music and physical movement, it's a primary, archaic human urge. The combination of these two things, movement through music and moving with the music is a combination that unchains imagination and joy. The created output is immense. Very naturally Utopian and at the same time very real. It's wonderful to combine these two urges for freedom and lets us ride with music, while riding on the beats of the planet, around the planet. This was something like a naturally winning combination and so we stayed sound in motion.
It was in the 90s, in Italy that I found people with a truck and music, that had the same urge apparently and so I stayed on the roads, just shortly I went up to Germany to quickly finish my master degree in agricultural engineering. But basically I stayed on the roads. All people of CYBERRISE met on the roads and so were the speakers built. You cannot say CYBERRISE sound systems originates from one place or one country. All forms and expressions were born on the road as was the sound system crew. Anytime and anywhere, not somewhere specifically. Manifesting through the movement on the roads to freedom.
So, yeah, for the first few years, we had a studio in Italy. It was on the mountains, 1,000 meter high on the Apennines between Bologna and Florence. It was a good location, so we started to install and build more speakers there. And then, slowly, slowly, we got a bigger truck and installed and build more speakers. A homebase to interstop whilst touring Europe.
What do you think about the music in free party, teknival, about styles of release, about sound itself.
Well, the most characteristic style of music, that you find on teknivals and free parties, is a style which I would call freetekno. It's an uptempo tekno variation which independently evolved from the club scene. And it evolves through travelling on the road, through the movement. I would say it's a combination of broken beats, jungle, and 4/4 kick bass. A "more layer thing" is going on. You have not only 4/4 monotony, but broken beats on it emphasising the every second step. Freetekno is very energetic and riding tribal tekno, which always reminds me personally, of riding on a horse through the head high savanna or the jungle. It remembers definitely ceremonial shamanic drumming, such as we know from amazonian Indians for example as we found it in ayahuasca ceremonies, for where we have a 180, 190, 200 bpm, of constant drumming in order to create the mental up lift needed it in those ceremonies. And freetekno from its speed, from habitus, from the sounds that they used in the freetekno, reminds a lot a shamanic ceremony. Definitely it does. We have definitely experienced, effects of mass hypnosis on the dance floors where the collective of the people dancing is falling through their imagination, and through their metal rhythmic expression into an ecstatic state of mass hypnosis.
There is definitely a connection to the old tribal ceremonial drumming which you find in the freetekno music, but you also have different styles, all kind of styles integrated in teknivals. This years you can find break beats, electro also, and hardcore, all kinds of styles are played. And for sure, one thing is that the styles played are mainly disconnected from the normal club scene, club development.
For sure also some tunes, that are played on the main floors of clubs, are used, this cannot be denied. But the tunes the producers, the artists themselves create when playing livesets, or the music that comes from a free background, always has a different touch then tunes released by people that have not experienced this kind of freedom. And the releases are much more various and the horizon of these artists is much bigger, definitely, and you can resent it, and you can feel it in the releases, so its a happily and luckily, very various and nice, this kind of free influence in the music released. And the main broadcaster is still vinyl, as it has been in the 90ies. SPIRAL TRIBE was even using mobile studios and mobile pressing plants, for pressing vinyls. After being recorded from the live set, pressing the vinyl right on spot. And then giving the vinyl out. Very unique limited pressings and very hard to get. For sure, you had to be on the party, otherwise you wont find it anywhere. This was a very nice era, let say the pre-Internet era.
Wonderful, Wonderful!! You know? Find it in the free areas and free zones, find it in the T.A.Z. or don't find it at all. Find it by moving. It will stay close to you forever. But unfortunately this kind of dynamics has been extinguish by Internet, e-commerce, which makes everything all the time accessible anywhere and which somehow bring in the advantage that music can be brought to certain remote points of the world, but on the other hand also brings monopolism and internet global trade, very much up to the front. We dislike some of the effects that the e-commerce, which took over in the past ten years, But still now in 2016, many DJs, or also let's say, generally music played on teknivals, free parties, is very much influence by the livesets. There is big liveset culture, and apart from this, mainly vinyls are played. Still in 2016 most of the DJs happily, luckily, play vinyl and avoid to play with mp3 which is in my opinion, a big win at least sound quality wise.
Sound of free parties, and teknival is actually many times amazing and great, because people dedicate so much passion into their sound systems, into building them, into calculating them, into combining them with other sound system, you know? patching them, splitting them, building big delay lines to get all kind of speaker systems integrated. So not only, there is a big art of sound system and Sound reproduction which amazes many times and brings amazing results to the dance floor, big fat bass lines, kickin in, very good work on many scales and from all around the place. Good work from Czech people, good work by french, italian and british. Excellent sound reproduction! Big up to everybody. Stuff you can not hear in any club but on free parties on a free entrance base… great work for our evolution in frequencies and rhythmics.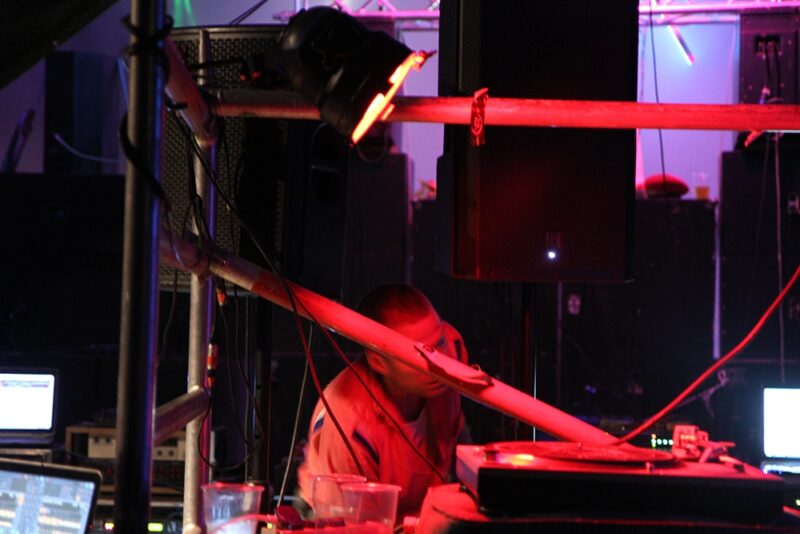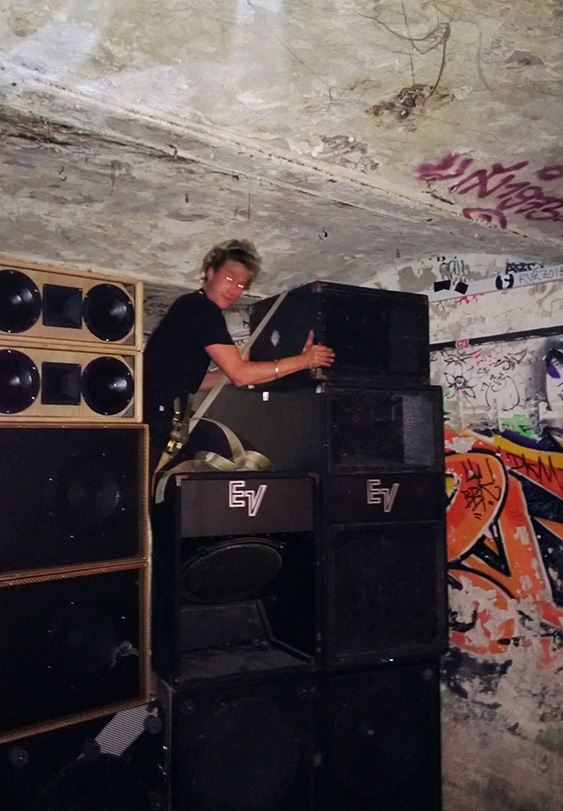 YAYA
label owner, YAYA organizes "YAYA23", a record shop and label in Berlin, Germany. He is also the co-founders of "CYBERRISE", which is one of most unique sound system around, and a vibrant personality in movement of the free parties and teknivals culture all over Europe, with a consistent underground style. since mid 90s he starts building his sound system and with it starts a ride through time, focusing on perfecting the quality of the sound trough many Free partys, Teknivals, pushing the culture of freedom, and of course all of these happened while moving around with the van and bringing the speakers from the west countries of europe where these culture was already taking roots, and other people and sound sytsems where involved, till the east most far countries like Bulgaria and Greece, where mostly the dreamers arrived to start new directions for the young generations bit more isolated. Along the time all these adventures where full of everything, from the best moments, to the most difficult and hard experiences, all meant to keep the fire burning.
Youtube https://www.youtube.com/channel/UCHHxK9hTclKFKBnUZt9xtTA
discog & shop https://www.discogs.com/seller/yaya23/profile
soundcloud https://soundcloud.com/yaya23-records
mixcloud https://www.mixcloud.com/yaya23/
destr∞y
He's cofounder of Ikanani mothzzzzrrr fukerrrr sound system and with these crew got involved in the Japanese underground free party & local teknival scene. At some point destrooy moved to Europe, to join the free party scene, and since then he consistently got involved in the squat party, street party, teknivals and all kinds of underground art. Joining different sound systems and traveling all around Europe playing live sets, spinning records, helping to carry the speakers and continually involved in these autonomous happening of freedom. In the same time he discovered also the free improvisation scene of Europe, and been touring with different artists from the underground experimental and noise music scene. as open session, open deck free improvisation SEWAGE/OPENCLOSE. An output of the multidimensional activity project Refugges on Dance Floor. He have released LPs by label ikanani x corehead.
https://soundcloud.com/destrooyakadubdub
https://soundcloud.com/refugees_on_dance_floor
https://www.mixcloud.com/destrooyakadubdub/