Interview by Refugees On Dance Floor
Staalplaat is a record shop in Berlin. A hub of Berlin's underground culture, it's a museum-like place where you can always meet new images and music with fetish sense of material. The deep understanding for the underground culture, the immeasurable respect and understanding of the scene. and the idea to extend it. Today Staalplaat is a unique existence around world which continues to promote and push it forward. Guillaume Siffert is the organizer of Staalplaat, who's been doing it for the last 12 years with unchangeable tough attitude in Berlin a city that continues to change with Gentrification. Now he is preparing his handing down of the shop to another keeper and move on with other projects, focused more on traveling exhibitions and presenting in a different way the same magic to a more wide audience. So let's dive together in a 2 hours long interview with him, while drinking and appetizing soba and tempura, in Berlin.
Hi Guillaume, so how u started "Staalplaat"?
I started with a small shop in 2006 in Berlin, called "le petit mignon". It was a really, really, little record store where I started to offer a bit more visual stuff, underground art, like screen printing, fanzine and books. Then one day I got call from the owner of "Staalplaat", He wanted to find someone who could take over the "Staalplaat", then I decided that let's do it. It was in 2007.
I moved my own store to "Staalplaat". in fact I made fusion of 2 stores. a lot of experimental music with all the visual stuff from "Le petit mignon" which is Screen printing and fanzine and books, It's like something that "staalplaat" did not had before. They were mainly focus on music, so I brought all these underground visual side on top. Then I started to bring my own influences music wise as well, and continuously combining it with the visual stuff. And I started doing exhibitions in the shop and in store gigs, like every 5 weeks doing a new exhibition, and I always had live music in these exhibitions openings. So these was back in the days 2008, 2009. After that I moved to shop in Neukolln, "flughafen str" where stayed couple of years and I kept doing the exhibitions with concerts.
What kind of artists were making exhibitions?
I started to stock fanzines and screen prints from several artists, Berlin is a city where a lot of people come, and a lot of artist from all around the world. Sometimes they knew or heard around about the shop, also many of them just passing by to visit the shop, and others were coming to show me their stuff. More or less, thats how I found visual artist for exhibitions in the shop. And I used to go to a lot of concerts, almost everyday or every two days. then I asked the people that I really like after seeing them playing live.
Back then it was not yet common happenings like In-store gigs, and people were like "Ah ok its good to play in the shop, its quiet funny actually so let's do it!." Then they liked it and got really in to it. After that a lot of people from abroad when they where touring, they were getting in touch with me, and ask me "can i play?." Because they heard from different people, musicians, who already played in the stores.  
So then way too many people start getting in touch with me asking to play in the shop. Then sometimes yes, sometimes no, because that was not the music I wanted to have. And I had only one concert in 5 weeks, I was getting 10 emails but there was not always enough space for everybody and it had to fit with the exhibition opening. So if it is not on time, then we can't do it.
 It could have been fun to do it more often but its not venue and too much work, so like you could play with bit more different way. In that time there was basement for it, sometimes If it's acoustic, we made in the ground floor.So I kept going like this. 
The Exhibitions were mostly by underground artist, that almost nobody knows, from Berlin, or from some who were sending me their fanzine. And I invite to make exhibition. Depends on many factors, also so many people were coming to the shop to show me their art works, and of course thru emails, also I was checking the happenings around Berlin. It's a kind of network, it's like many people contact me, even if they had never been to the shop, just thru somebody who told them about the shop. It was spreading the word between the artist who already performed here or had exhibitions here. a lot about connections between real people rather than let's say internet. The direct contact with real people, thats important.
All released by Le Petit Mignon
This was first 6 years 2006 – 2012. How was after that? 
Then in 2012, I moved the shop in "kienitzer str" and I completely stop doing the exhibitions and concerts. Because on one hand it was too much work somehow and i did not feel like that I want continue to do it and on the other hand, also other people started do somehow same kind of stuff. I was not the first to start doing this and not the only one doing that. And at some point I felt that there was enough stuff going on in the Berlin, So I don't need to do it anymore in my place. Also it was same back in the days when I used to organizing concert in different venues, locations. At some point I stopped to doing it because there is enough people to organize them in Berlin, so I don't need to do it.
Berlin has always new people coming with a lot of stamina and motivation, and they want organize stuff. So If somebody do it, I don't need to do it anymore. so you do it and I do other stuff. In other big city sometimes Its bit more difficult because if old school guys stop, then there is nobody to take over. So they keep on going actually. They keep struggling to make things happen.
What about exhibitions side?
We have a lot of screen printings, artworks, fan zines and on the wall we always have different things, I putted them on the wall and keep changing to show them to the people who come to the shop, So its like there is a permanent, and permanently changing exhibition on the walls. I stopped doing specific exhibitions, in the other hand I kept rollin exhibitions on the walls of the store, which were basically the stuffs that people were bring to here, so I enjoy presenting some of them on the walls and keep these permanent changing flow.
Then after stop the exhibitions since 6years, What motivations make you start it again the exhibitions now? 
"staalplaat" it self started in 1982 , It's been around so many years, its a super old school store. So even thought a lot people know about "staalplaat", to the younger generation they mostly never heard about it. And how can the younger people get to know about shop? So it was time to use the good old method of bringing people together by organizing a couple of events and in store gigs and make them more aware and appealed to come and check it out.
Is good to have people in a city like Berlin, because anyway its difficult to make money out of selling things, the people don't have so much money, and they prefer to spend their money mostly, on other pleasures, like, partying, or drinking, or eating, or whatever. then you don't feel that you make money by organizing exhibitions or etc. but you feel more like presenting something. So i'm presenting the artist, but in the same time, promoting the store.
And there is not so much happening about mixing music and visual art, as is not so common in general all around world. Today in Berlin you get either music, either exhibition opening. So I thought its make sense to start again. Specially for visual art which I have in here, You don't have so many places to see in Berlin.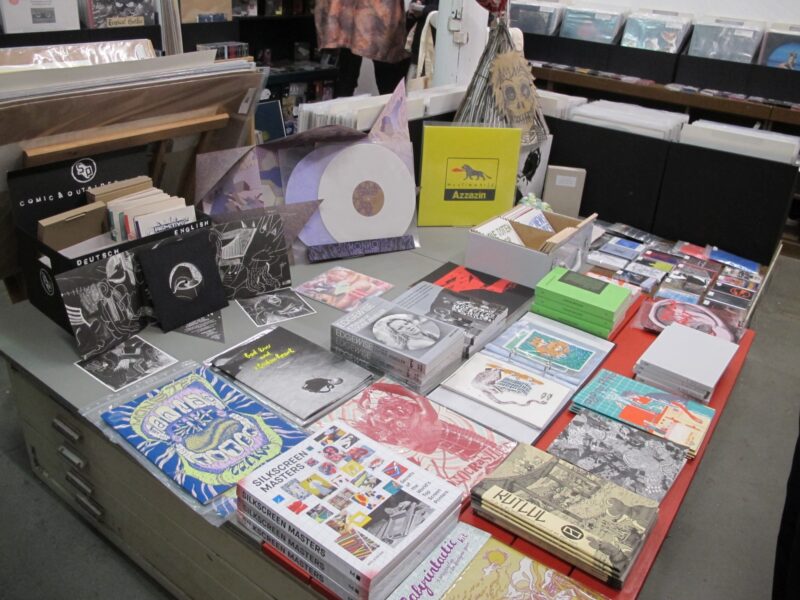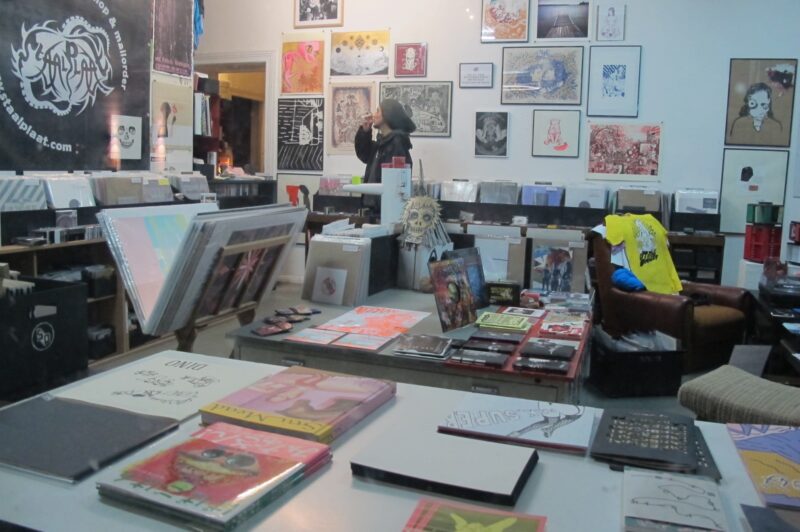 How you consider the changing of Berlin , while passing thru almost 12 years of activity of the shop?
The store had always a bunch of up's and down's, sometimes it runs ok, sometimes completely shit, you never know. Of course more artist are coming in Berlin, it is not only the already known artist who like contemporary artist, the kind of guys who want to sell their paintings in the gallery by bit high prices , there is also D.I,Y. artist who are doing screen printings, or lithograph printing, and other great artist.
On the other hand the great artist who were here, many of them were reminds in Berlin. So if I have to compare Berlin to other western big city, Berlin is still cheap to live and work, but on the other hand the people don't have so much money and is hard to sell..Back in the days was the same, and the buyers of paintings are mostly the tourists.
How is the Internet influence on the shop?
If we didn't do mail order, it will be not possible to keep the shop , I have to do both that actual shop and internet shop. which is bit different to other big cities. I heard couple of stories from a french shop, that they don't sell almost nothing thru the web, but mostly in the shop. so they have really often customers that come to buy at the shop. But here in Berlin is not really like these. so I have to count on the customers who buy by online, As well as the kind of customers who come to Berlin by different reasons, like just to chill, or to go to festivals, then pass also by shop. They come here only once or twice a year. they are not regular, regulars in Berlin is almost impossible. You don't have people coming once or twice a week to buy 5 or 6 records or at least i don't have this.
For example, I mix music, traditional music from Kenya, with contemporary Rotterdam techno, For instance because we don't touch so many DJs.
We try to develop to talk to different DJ's, Its like that nice to play techno but maybe you want to put some field recordings or a bit more weird stuff with your beats or stuff. DJs are the only one's who buy records regularly. I mean, vinyl DJs. Nowadays a lot of DJs are playing by computer and buying the data online.
So we were trying to make some talks in the shop, something like in-store events, its like not just with music but also with talks between artists, and try to introduce them to these idea of combining the regular techno sets with a wider range of sounds, which can come from the experimental, or field recording, or world music area. We try to make people aware of the possibility of expanding their music. For example, I mix music traditional music from Kenya with contemporary Rotterdam techno. Or mix filed recording of some industrial area from Romania in the 50s with something. It is like not only beats, beats, beats, because obviously beat music works. There are a lot of techno record stores where you can find good techno, but besides techno what do they offer? In the end you are stuck, if you go to a gig , a techno gig, Its hard to understand even who's playing, because its just playing same beats as what you heard a week before, or something like this.
I am not complain about techno scene, I love techno, just I can not imagine how you can make a good mix with techno if you don't listen anything else except techno. Also I can't imagine that you can make good noise music if you listen exclusively noise music, It can be good for one gig or one record, but if your stuff sounds exactly the same all the time, there is a problem somewhere. Some people like it, when musicians plays exactly the same… For me, I'm looking for influences, deep inside.This guy is open minded to several different things, how is he gonna try to create this music out of those influences.
I am just one record shop, I also don't want somebody to come and spend all his money only in my shop, because I know that I don't have everything, and then if somebody asks me for recommendations of other shops, I can give them some directions according to what they are searching. Then he can collect more vast range of different music, if you play music, then your music will be better, and then your music will be more experimental for you and for your audience.
Please tell me about your label "le petit mignon"
"le petit mignon" is the name of my first shop which I opened in Berlin in 2006.
When I moved to Berlin 15 years ago, I was 22 years old, I lived in a huge WG (share flat which is quit common in Berlin).
First, I came to visit Berlin, It was just for a week, and I was trying to find a place to stay. So I just came to check around and I found these lovely place, It was 400 m2, big space with only German people were living in there.
There was 10 people, family with kids also, It was completely different from what you could get in France. Before I was living in Paris. In Paris, if it's a shared flat, you can find place with only 2 people in a tiny space. So I thought let's give it try.Then I moved to Berlin.
So you started to live in Berlin, moved from Paris in 2006.
There was one of my old French friend, she moved to Berlin just little bit before me. I didn't know it, because we did not get in touch for almost 10 years, but then we started to hang out together again. She was an artist and photographer, and she could draw very good. So one night, I was taking shower, and she was waiting for me with her boyfriend. Meanwhile they were waiting for me, she started drawing on a huge piece of paper. (In that time downstairs there was a printing company, and sometimes they were throwing a lot of paper in trash, that was very easy for us to recycle and have around as material)
And I thought "fuck, these drawing is amazing", so I kept it.
After moving to Berlin, a couple of months later, I started to think about the shop. I was already into the visual arts like now, but I did not know exactly how to start the shop. I was just starting my life in Berlin. And it was difficult because I didn't speak so well german, and also because I didn't really knew yet what I wanted to do. So I was a little bit lost but whatever… anyway I was already here.
So meanwhile I was hanging this drawing on the wall of my room for while. One day I visited this friend again at her apartment, and she was showing me some pictures thru which was a picture of the first kid of another best friend who I knew also, and it was quite a funny coincidence. Back in the days, It was the first pictures which I saw with a baby from friends. its like that time when your friends start to have babies. So when I saw the picture, I was "fuck, oh le petit mignon" ( "le petit mignon" means the little cutie. )
After a while I was searching the name for the shop, and one night when I was probably completely drunk. And I look at the drawing which she made, and I thought "oh, its le petit mignon". Then I asked her if i could use that drawing of her's as the first logo or visit card for the shop. And I decided to call the shop "le petit mignon". Then it started everything actually. So I opened the shop and started to do my things, and I started to do exhibitions.
At that time I just wanted to start to release the stuff that I was in to, but I didn't know how to do it. Then I thought let's mix it together, because I didn't wanted to be another record label, and I didn't want to be another publisher, I wanted to be something in between.
So I decided that I'm going to release music, but I gonna really take care about the mixing with the visual side of underground art on the cover to bring something visually interesting also, not only a format, but also not only a visual, not only music, but something in between.
Then I started to publish editions mixing music with visual underground art mostly by 7 inches, working together with the artist, visual artist who were making the design for the cover, also printing artist who were making screen printing, and that was the starting point of the shop, then became publishing house and record label of non-label. I prefer to say non-label somehow, then it became a name for the concerts and exhibitions which I used to organize. So "le petit mignon" 12 years later, after its start is still a mix of publishing house, and exhibition organizing things. somewhere in between we started to do also the traveling exhibition which arrived on to the third edition, and is based on the idea to gather artists and try to move an exhibition all around the world as far as its possible.
So Tell me about the concept of this mobile exhibition which u are doing in the last years , and where you walk with it , where you want to go next?
The traveling exhibitions concept started since 2012 when I moved the shop from "Flughafen str" to here, and I decided to stop doing regular exhibitions and concerts in the shop, and somehow at the same time I felt that I work too much and I need to go out from Berlin. That was a bit of a personal reason, but I felt I need to find a way to get out Berlin and then I got the idea let's do some "Traveling exhibitions" thru which I can show the stuff outside of Berlin.
 The idea is that I am not just going to sit here and wait for people to come and bring me their stuff, not do it just one way, but why not to do it both ways?! Its like they come to me, and I go to them as well.
So now I am using the name "le petit mignon" for promoting the traveling exhibition. it's something like what i used to do in the shop, mostly focusing on emerging young artists who are doing weird stuff but who don't really belong to the traditional gallery space. So i'm focusing on people who are more D.I.Y. and who don't want to be famous or don't chase to do a lot with money. They just want to find another way of living normally.
So I started to ask around the artists, and friends who I really like their works and they were willing to join and send me some material, and thats how i started to gather the stuff for the "Traveling exhibitions".
And so on, I started to get in touch with more different people, through the many contacts of the shop to find different venues around the world, for the "Traveling exhibitions". In the beginning mostly I went through Europe, then I got some good feed back. Then i started going here and there in western Europe, and a little bit in the east Europe as well. It's not that expensive to travel around Europe actually, I never tried to get any fundings or whatever.
Actually sounds much better than just sitting in one place! And how u see the future new editions?

Yea I prefer do that, but I like both actually. Now 2nd edition is done which was getting bit more serious. Then idea of a 3rd edition is to have 8 artist on the exhibition, and to bring along 2 of them, to make workshops and collaborations together with people in the spot. But for these it need more money and its quite difficult to find places, where to apply to get funding for the costs of the traveling exhibitions, so I need to make a bigger project and I did not have so much time for it yet.
 Until now I did not get any funding stuff, I did all by myself, and I had a great contact everywhere. trying to involve the new places, for example I went to Slovenia, because this gallery gets money from the state, then they can pay for everything. so I try to find institutions, galleries which have money already. its not easy, its very, very difficult now.
All images from shop exhibitions
So actually where have you been till now?
Amsterdam, Rotterdam, Brusseles, Marseille, Paris, Rome, Geneva, Lubliana, Warsawa, Slovenia and in Japan, Tokyo, Osaka, Kyoto. I wanted to go outside Europe, but its not easy, I can understand it, its the same for my shop, If someone offers me to do the same here in the "Staalplaat", I will say I can pay the trip only for one person but not for 3 persons. So its difficult to make it, in super D.I.Y. places because they don't have so much money, so I must find a bit more academic places or something in between but beside that I make it in D.I.Y. places in the end.
I went to Japan, and mainly because I really wanted to travel to Japan, so I just went by myself, but I had some contacts and I could easily meet some people and situations where to show the exhibition. It is the only one which I made outside of Europe until now. It was a great experience, I showed a lot of screen printings, couple of original drawings and I meet new people for future collaborations and got different new books for the shop, and the chances to speak about several things.
I'm just trying to get in touch with as many places as possible, and I am getting in touch with the french institute because its a french exhibition, but actually they are very conservative. They are more into photography things, and what i offer its too crazy for them so they are not so much interested. Let's see I am just trying, and In the end if there is no money, I will go anyway by my pocket money but, I wont be able to take the two artist with me, while the Idea of the 3rd edition was precisely to bring along two of the artists and create an interaction working spot, and make new contacts thru these way.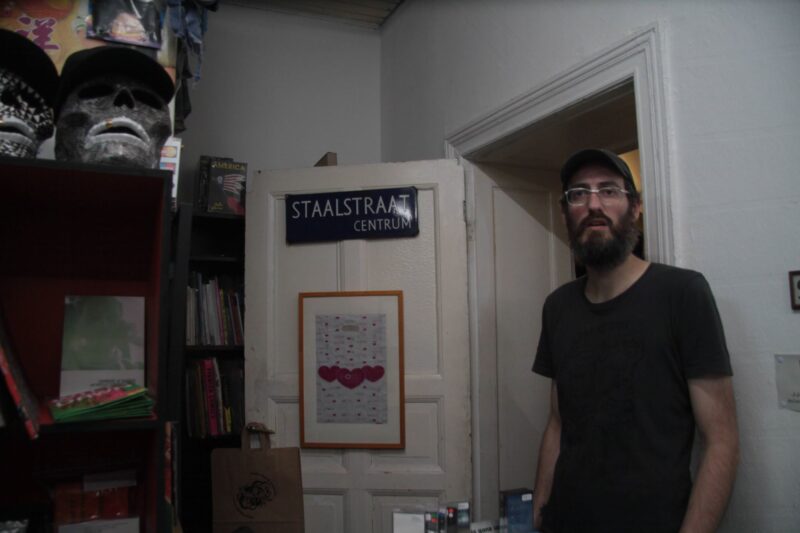 Refugees On Dance Floor
Stateless Multinational Freeform Sound Collective, Japan, Romania, Germany, Poland, Hungary, based on network hubs scattered all over the world, visuals, music, we are still believing the power of art, seriously exploring, experimenting. An imaginary group platform for improvisation, creation, and output. Continue to create and relate with state of freedom, social experiments by art side and subculture side.
https://refugeesondancefloor.blogspot.com/
https://soundcloud.com/refugees_on_dance_floor
Photo by LOX, Staalplaat